Welcome to the Bella Vista Resort in San Pedro, Belize
If you are looking for one of the best places to stay in San Pedro, Belize, then you have found it here.  Our resort is located along the sandy beaches of Ambergris Caye, only 2.5 miles from the buzz of downtown.

Top Rated Belize Restaurant - Aji Tapa
Our resort is home to Aji Tapa Bar and Restaurant, one of Trip Advisor's top ten rated restaurants in San Pedro, Belize
San Pedro Ocean Front Resort
We are a boutique ocean-front resort with amazing views and ambiance.
Gold Standard Hospitality
Bella Vista Resort is a Gold Standard Resort, so your room will be nice and clean, your bed will be comfortable, and the service will be unbeatable. 
Our tour operating company can also book tours and sightseeing excursions for you in Belize, so if you are interested in snorkeling in Belize or visiting Mayan Ruins, you can book that right here during or before your visit. 
Bella Vista Resort Amenities
Our resort offers breakfast, kayaks, paddleboards, and bicycles to all our in-house guests covered by your resort fees and we offer golf cart rentals. 
Sea turtle
One Bedroom King Bed
Barracuda
One Bedroom King Bed
Tarpon
One Bedroom King Bed
Reef shark
One Bedroom King Bed
Sting Ray
One Bedroom King Bed
Crocodile
Two Bedroom Queen Beds
Bella Vista Resort Belize Property Information
Infinity Pool & Swim Up Bar
Our property has an infinity style pool with a waterfall and swim up bar overlooking the Caribbean Sea.
Views of the Barrier Reef
The resort is a half mile from the barrier reef (about 15 minutes by Kayak and 2 minutes by boat) so all your under-the-sea adventures are close and easy.
The dock at our property offers easy access to coming and going by boat or swimming in the sea.
Although we are in a quiet location, we are right by the Gran Caribe and are walking distance to several bars and restaurants including the Truck Stop, Reefers, Rain and Stella's
Bella Vista Resort offers on-site Spa services where you can have a massage on a roof-top deck over the water while the sea-breeze keeps you cool and calm.
Immerse Yourself in Nature
Our property is surrounded by nature, with iguanas lounging around, birds chirping and life under the sea, all wait to greet you. 
Unbeatable San Pedro Location
Bella Vista Resort is located on a beach walk path where you can stroll by the sea on your way to a seaside cocktail, yoga class, restaurants, or just to enjoy the walk.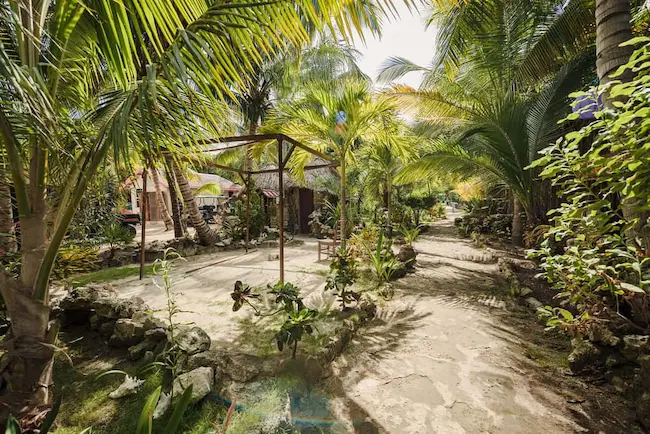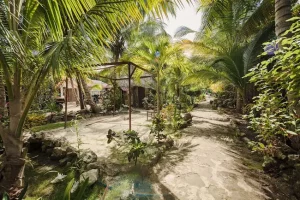 The Legendary Aji Tapa Bar and Restaurant
Offers fresh seafood every day and even has the option to bring your fresh catch for us to prepare and cook for you (we are closed on Tuesdays).
Aji Tapa also offers dishes that cater to vegetarian and food-allergy diets. With a full-service bar, amazing service and food that will leave you smiling, be sure not to miss dining at Aji Tapas Bar and Restaurant. (Check out our signature dish, Seafood Paella!)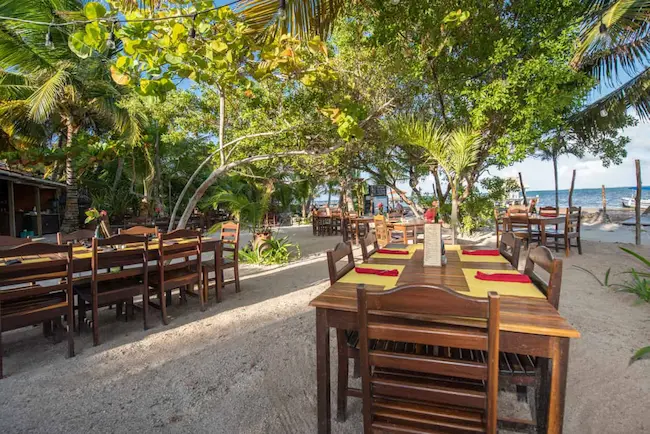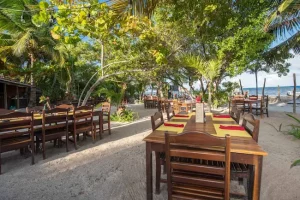 We are a fine-dining establishment that prepares a seasonal menu with the best fresh food that Belize has to offer, which many times means right off the boat and onto your plate. 
Seaside Dining With Entertainment
Our seaside dining under the stars and lights draped throughout the trees offers the best ambiance for a romantic meal. On several nights, we offer live music from local musicians, making the ambiance even more spectacular. 
Belize Tours and Adventures On Location
Our seaside dining under the stars and lights draped throughout the trees offers the best ambiance for a romantic meal. On several nights, we offer live music from local musicians, making the ambiance even more spectacular.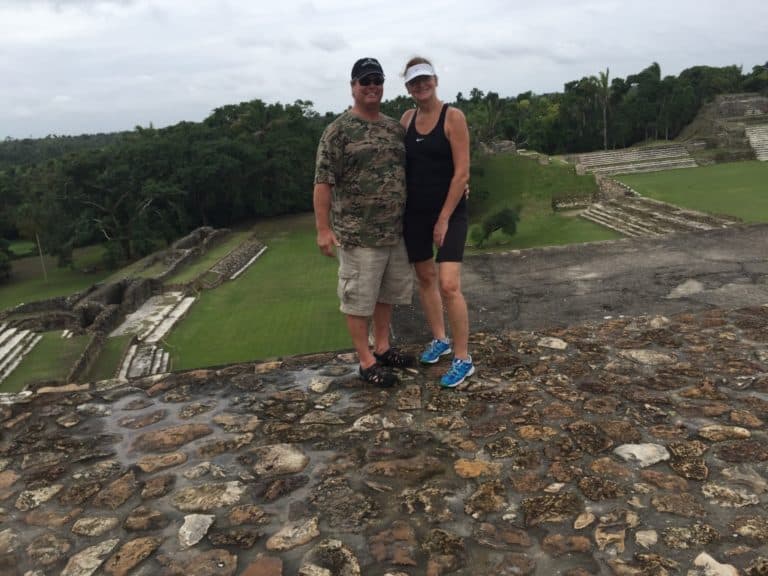 Belize is home to many of the ancient Mayan Temples and ruins. Discover the history and culture of one of the world's oldest and most advanced societies from licensed tour guides while climbing famous structures.
Did you know that some of the ruins have real skeletons you can view? Visit the ATM cave hike, where you climb, swim and hike through a Mayan ruin with famous skeletons.

Belize is also known for its nature and wildlife, with many sanctuaries and animal preserves, you can see monkeys, iguanas, crocodiles, tapir, even Jaguars and pumas on land; head under the sea to discover the world down under and swim with nurse sharks, stingray, turtles, manatees, dolphins, octopus, crabs, lobsters, eels, tropical fish and much more.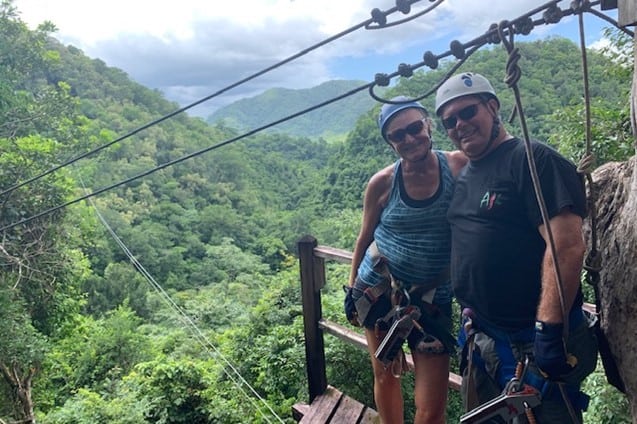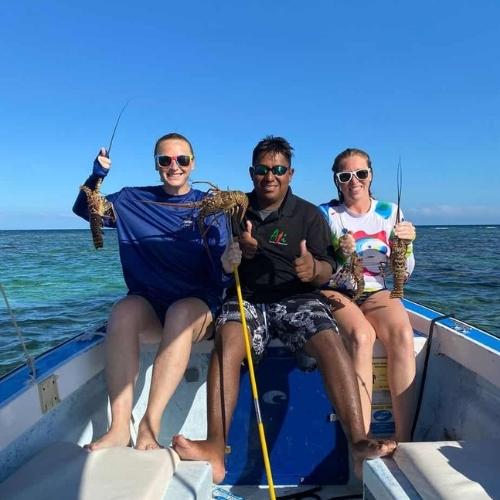 Explore the Belize Barrier Reef
Belize is home to the longest living barrier reef in the world. With warm tropical waters and amazing visibility, Belize has the best conditions for scuba diving, snorkelling and water activities of all kinds. 
When you stay at Bella Vista Resort, those activities and more are right off your own dock!
Reef Ruins and River Adventures Belize also offers deep sea fishing, reef fishing, fly fishing and spearfishing; between having an abundant reef to our location right on the Caribbean Sea, we have incredible fishing tours and captains. Reef Ruins and River Adventures Belize books zip lining, ATV tours, river tours, food tours, jungle adventures, nature & wildlife tours, boating tours including trips to the blue hole and more, so if you had an excursion in mind, we are happy to make that a reality.
Make Your Time in Belize Special
Whether you want to lay out and tan, jump in the sea, or discover an ancient culture, Bella Vista Resort can help make that happen. 
Our reviews describe us as a "hidden gem" and most guests when they leave, claim that they are leaving family. So, if you are looking for the full-service experience in Belize, with a personal touch that makes you feel like you are at home and with family, then come check out Bella Vista Resort for your Belize vacation destination.